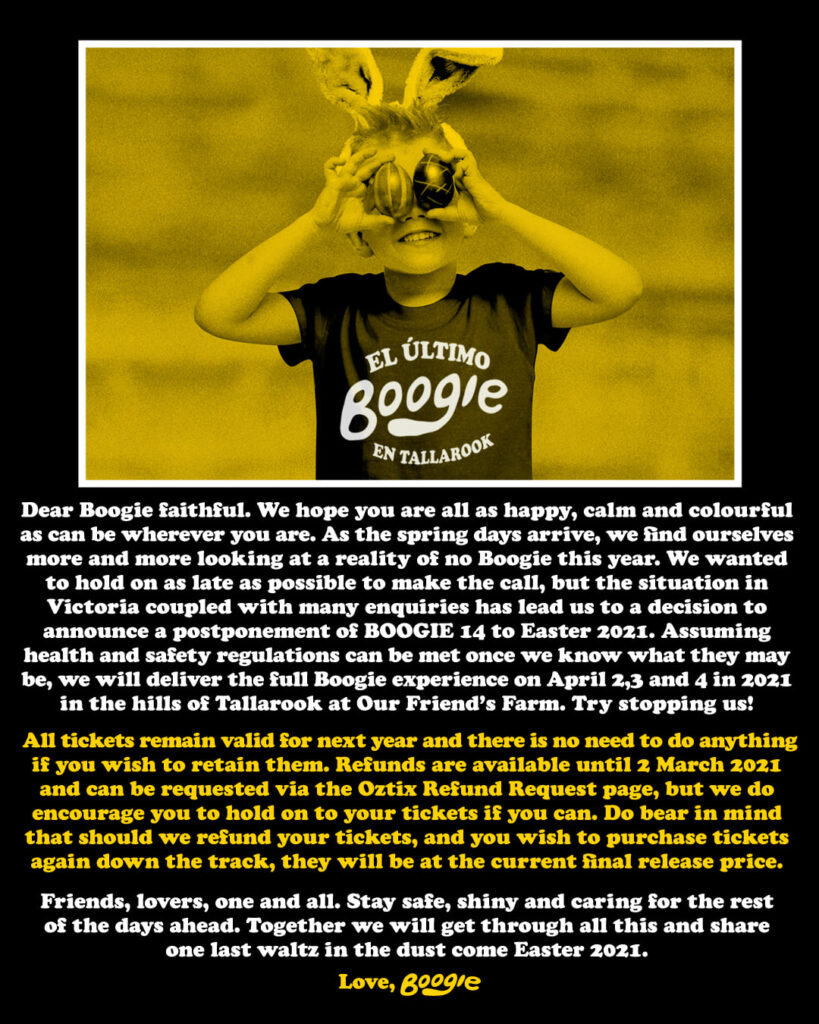 EVEN are excited to perform at Boogie 14: The last waltz in the dust. The festival had to be postponed for a year and will likely take place on the Easter weekend of April 2, 3 and 4. Hopefully for one last time at Our Friend's Farm in Tallarook, VIC.
Shared experiences on communal grounds surely leave more than footprints on the topsoil. They go beyond and deep. You can feel them as you enter under the Camp Boogie sign. When you turn into the grounds of Our Friend's Farm and locate your home camp for the best weekend of the year. Your mind sparkles and soul shines as they mingle with your being, beaming you into your happy place with a tingling sensation. It's spiritual. It's metaphysical. It's Boogie. The fourteenth instalment. The final incarnation in Tallarook. The last waltz in the dust. And what a dance it will be.
In no time at all, we'll join in our shared cosmic energy, for pure ecstatic and electrifying good times incomparable with any other situation you're lucky enough to find yourself in. The second set of artists sure to make your Easter weekend most memorable has just dropped, read on …
2020 line-up will hopefully stay the same: POND * CASH SAVAGE AND THE LAST DRINKS * HOWLIN' RAIN * TWIN PEAKS * ANGIE MCMAHON * ENDLESS BOOGIE * AUSECUMA BEATS * EVEN * CLAMM * GRACE CUMMINGS AND BAND * STEVE SMYTH * KARATE BOOGALOO * FLOODLIGHTS * HAYLEY MARY * JAMES ELLIS AND THE JEALOUS GUYS * MR TEENAGE * THE BUSH * THE VOVOS * EUGENE HAMILTON AND THE MONEY * IMPERIUM plus stacks more – DJs, entertainment, food & booze and a bunch of other awesomeness – to still be announced.
Limited final release tickets still available right HERE right now.
Facebook event