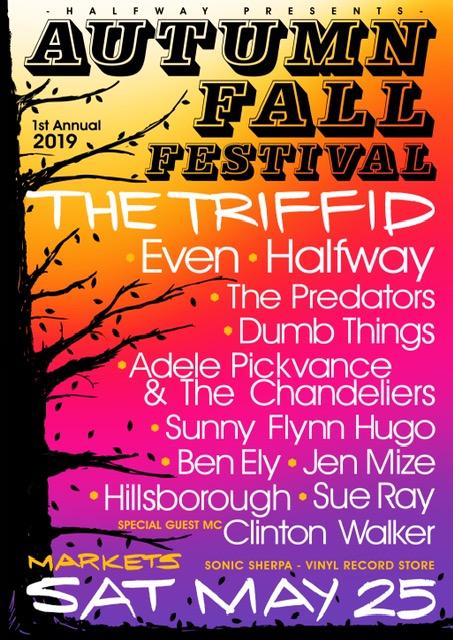 Halfway presents their inaugural music festival, the Autumn Fall Festival, comprising of two stages showcasing 10 acts. It will be MC'ed by Brisbane born, music writer, television presenter and music chronicler Clinton Walker.
Autumn Fall is giving away a CD to the first 300 early ticket holders. The CD will contain rare, notable and unreleased tracks from Autumn Fall festival artists. Get in early to be sure to get a copy.
Halfway –https://www.halfway.com.au/
'Brisbane 8 piece, Halfway have always operated in their own space within the Australian music industry. Six critically acclaimed albums in, they tick both the Americana/alt-country box as accurately as they slot into the world of indie rock'. Current album Rainlover has received nothing but gushing 4 and 5 star reviews.
EVEN– https://www.even.com.au/
Legendry Melbourne purveyors of pop'n'roll, have a career spanning 25 years, releasing 7 great records EVEN released their seventh studio album 'SATIN RETURNS' late 2018 sounding as good as ever.
The Predators-https://www.facebook.com/wolfcondorshark/
Brisbane 3 piece comprising of 3 original Powderfinger members, including John 'JC' Collins and original Powderfinger drummer Steven Bishop and rhythm guitarist and current 'The Church band' member Ian Haug
Ben Ely- https://benely.bandcamp.com/
Stalwart of the Brisbane music scene, internationally known for fronting legendary genre bending 'Regurgitator' with Quan Yeomans. Ben has played in Brisbane band's for over 25 years. Ben released his debut solo record, 'Strange Tales of Drugs & Lost Love' in 2017.
Adele Pickvance- https://www.adelepickvance.com
Adele is a fixture on both the Brisbane and national music scene, One time 'Gobetween' and'Dave Graney' bassist. Adele Pickvance and the Chandelier s will be releasing debut single in May 2019.
Dumb Things- https://www.facebook.com/dumbthingsmusic/
Up and coming Brisbane 5 piece jangly hangover rock think 'Rolling Blackouts Coastal Fever with a Brisbane twist, self-titled debut album released in 2018.
Sunny Flynn Hugo- https://www.facebook.com/sunnyflynnhugo/
Brisbane Slacker jangle 6 piece, released great self-titled debut album mid-2018
Jen Mize- https://jenmize.com
Americana singer/songwriter, one of Australia's best kept song writing secrets. Jen is co presenter of 'Three Chords And The Truth', a weekly national radio show/podcast on the 98.9 Murri Country network.
Sue Ray- https://www.sueraymusic.com
Sue Ray is an award winning indie singer/songwriter who has released three critically acclaimed albums.
Hillsborough- https://www.facebook.com/hillsboroughmusic/
Phil Usher (Grand Atlantic and Sacred Shrines) & Bea Maglai (Sacred Shrines) alter country outfit delivering sad cowboy songs.