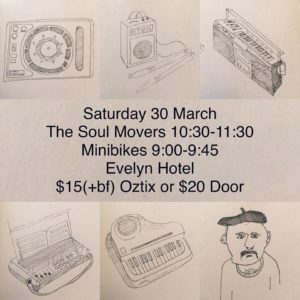 MINIBIKES will be joining Sydney band The Soul Movers for their Melbourne 'Bona Fide' album launch on Saturday 30 March at the Evelyn Hotel.
Featuring legendary 'Swampers' David Hood and Spooner Oldham, everyone's favourite ex-Red Wiggle Murray Cook and the sensational Lizzie Mack. With scorching new album 'Bona Fide' recorded across seven epic studios of the USA, the Soul Movers guarantee to deliver to your ears something retro, something new and something that is sure to get you busting out your moves on the dance floor.
A cocktail of soul, blues and rockin' pop that will leave you feeling shaken and stirred. This is a 'once in many lifetimes' unmissable event with extra special guest Ms. Tracy Kingman on killer vocals.