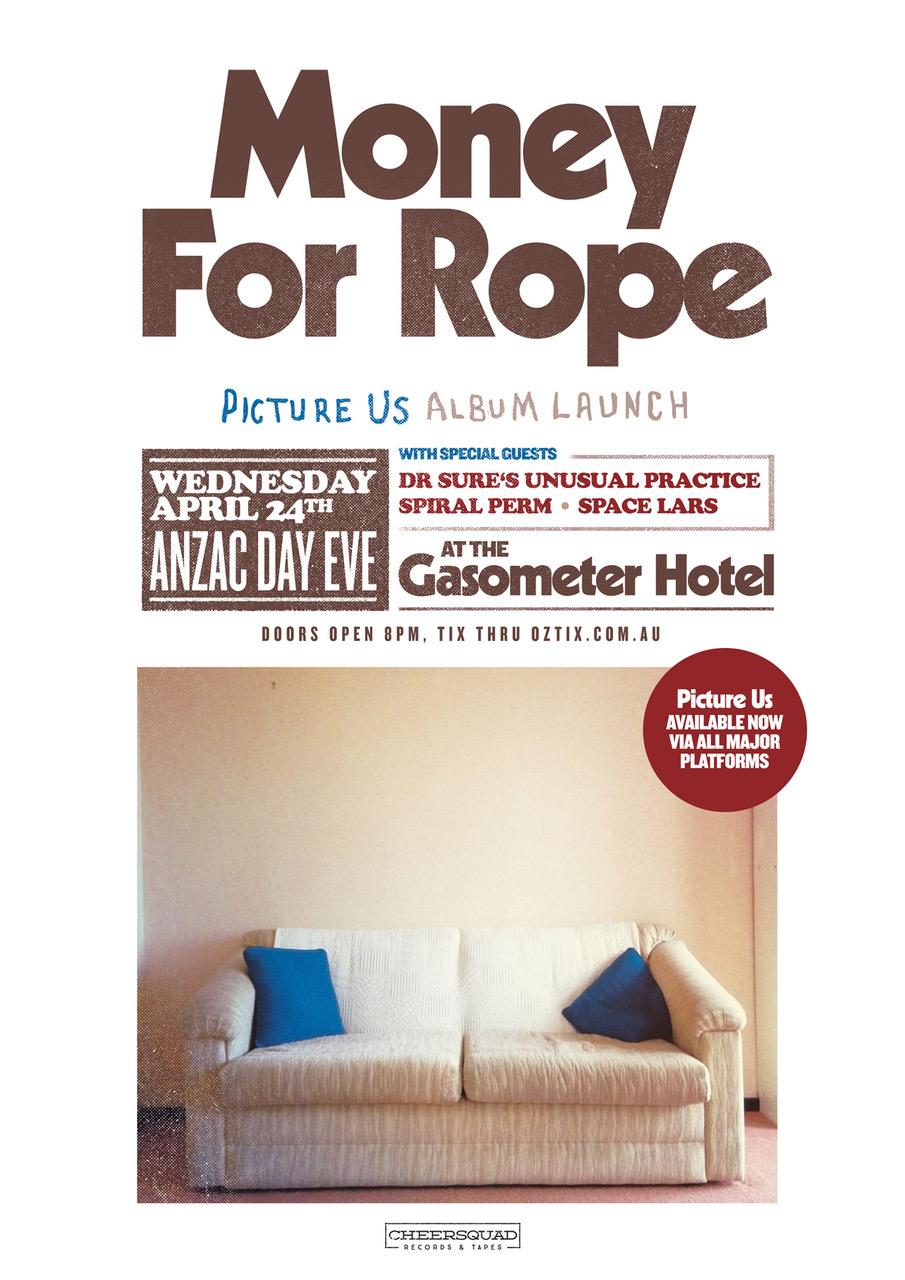 MONEY FOR ROPE launch their new album 'Picture Us' at The Gasometer, Collingwood, on Anzac Eve, Wednesday April 24th.
Special Guests Dr Sure's Unusual Practice, Spiral Perm and Space Lars. Tickets $15, available through OzTix.
Album reviews are flooding in from all corners of the globe and have all been insanely positive, averaging 4 out of 5 stars.
Album of the week – The Age
"… Jules doesn't sing but he pleads…" – JMC Mag, Germany
"… a record brimming with energetic garage and surf rock, punctuated with strong moments of soul and psych." – John B. Moore, BLURT
"Emerging from the same Melbourne music scene that gave us King Gizzard & the Lizard Wizard and Courtney Barnett, Money For Rope are a band that blur the contours of surf, soul, garage and psych rock like few others. Their latest single 'Actually' is a strutting, lysergic-dappled effort from this fast-rising five-piece (including two drummers). " – Brian Coney, THE LINE OF BEST FIT
"Melbourne has produced some great music of late and psychedelic punks Money For Rope are no exception. Already endorsed by Courtney Barnett who subsequently took them out on tour, their second long player Picture Us comes out on 8th March and encapsulates numerous genres and styles throughout its ten pieces." – Dom Gourlay, DROWNED IN SOUND
"As they add more soul and emotion into their music, they get better, so this is very much a welcome progression for a young band." – Nathan Fidler, SOUNDBLAB.
"Picture Us thrums with the promise of one of Australia's most hard-working and charismatic new bands." – SILENT RADIO UK
"… offers a perfect insight into what Money For Rope do so well: jerking with ease between a youthful slacker nonchalance and raucous psych-tinged wig-outs." – PUNK ONLINE\
"It's taken a long time to hear another Money for Rope album, and the wait's worth it. Picture Us smashes it again." – Patrick Emery, I-94 BAR
"… scrappy, DIY and fun-as-hell" – IF IT BE YOUR WILL