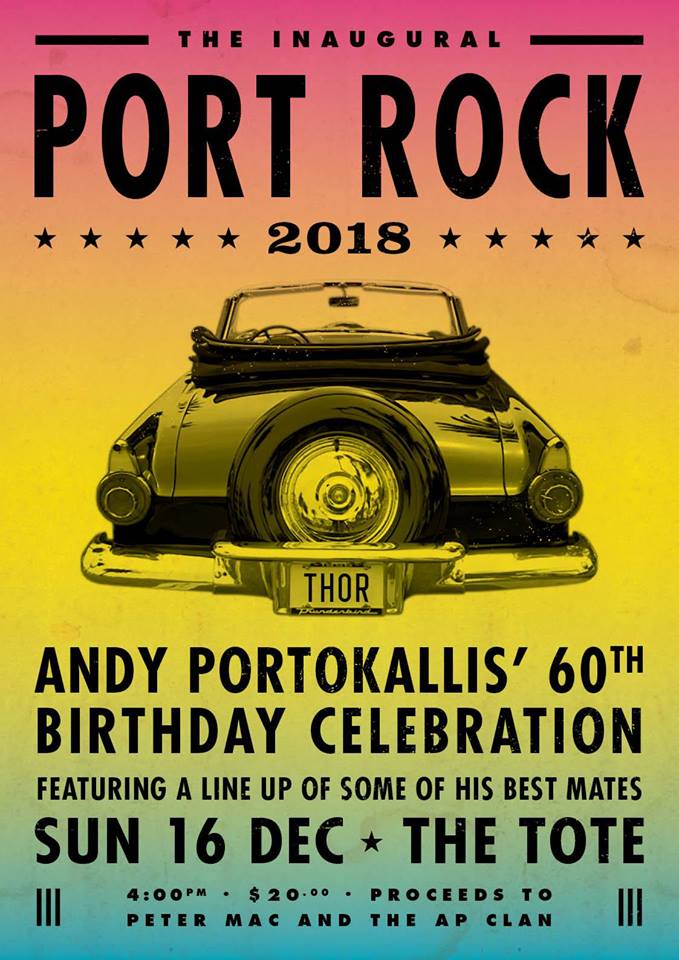 Andy, Andrew Georgi, Andreas, Pot of Carlton, Angus Grabowski, Babe, Jeffe, Porto, Anth, AP, and to four special people, Dad, Andrew Portokallis has been a man of many colours with many hats. Computer programmer, builder, drummer, wedding car chauffeur, bussie, project manager, bar owner, billy cart maker, recycler, he is perhaps best described as developer of great mirth.
He was a Greek Cypriot working class guy who was committed to taking life by the scruff of the neck and sucking back hard. He cared deeply for others, and was always first to prop up the weakest in a gang.
Andy recently lost his battle with cancer, and so his family and mates are now being rocked in a different sort of way. He lived by a doctrine that everything happens for a reason, and maybe that was his grand plan behind wanting to put on an annual gig to bring people together and do what he did so well- having fun.
Enter Port Rock 2018. For this first cruise into the sunset, some of his closest friends have assembled themselves into a motley gang on Sunday 16th December at The Tote. EVEN, Money For Rope, Digger and the Pussycats and The Breadmakers for an arvo and a night of riffs and moves.
Proceeds go towards the AP clan and also to Peter Mac who provided him with expert care and support over these past few months.
Heads down, hands in the air, Port Rock 2018.
The Tote, Sunday 16th December 2018, 4-11pm.