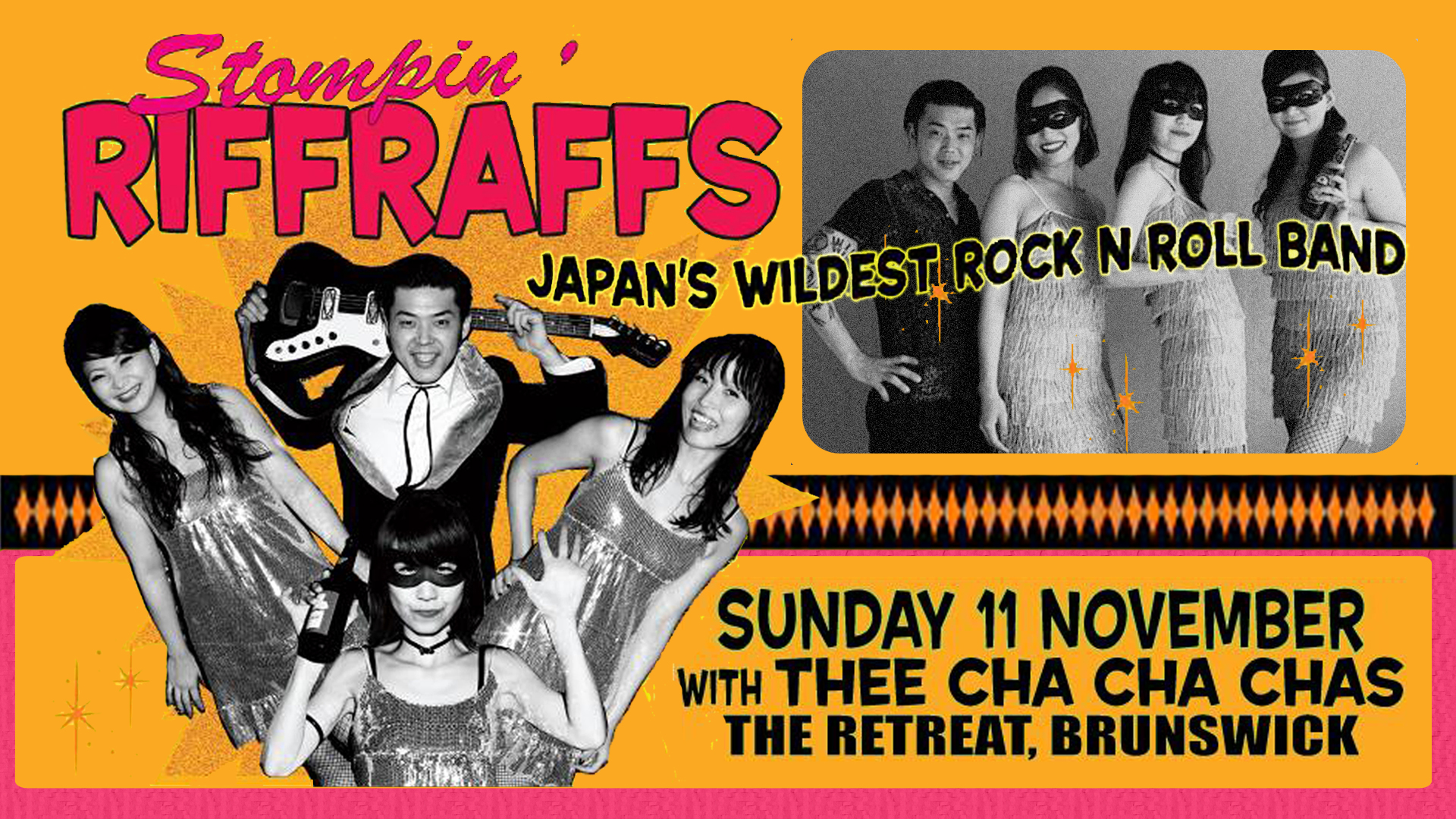 Cheersquad presents Japanese 4 piece garage rock 'n' roll band STOMPIN' RIFFRAFFS who head to Australia for the first time ever with a whirlwind visit early November. Inspired by an invitation to perform at this year's Viva La Gong Festival in Wollongong, the band said "yes!!", a few more shows were booked and the band took a week off work! Come and hear classics from the STOMPIN' RIFFRAFFS album 'A Man & Three Chicks' and the singles Phantom Rock, Mondo Topless and Horror Show. Renowned for their wild live shows, some wild guests have also been booked to ensure these four shows are unforgettable.
SUNDAY 8th
The Retreat, Brunswick (VIC)
w/ Thee Cha Cha Chas
Free entry
Doors: the Retreat is open all day
Thee Cha Cha Chas 8:30pm
STOMPIN' RIFFRAFFS 9:30pm
In their words…. STOMPIN' RIFFRAFFS, formed in Tokyo in 2006, are comprised of three chicks—Rie (bass), Miku (keyboard and theremin), and Saori (drums)—and fronted by their man Nao (guitar and vocals). They have been regular fixtures of the Tokyo underground since their inception and regularly tour around their native Japan while still finding time to play internationally with regular frequency. STOMPIN' RIFFRAFFS combine all the elements of the golden age of ferocious rock and roll without sounding simply derivative, providing irrefutable proof that despite their homeland being known for propriety, orderliness, and manners, these Nipponese can still hit as hard and fast as anyone else.
Facebook event