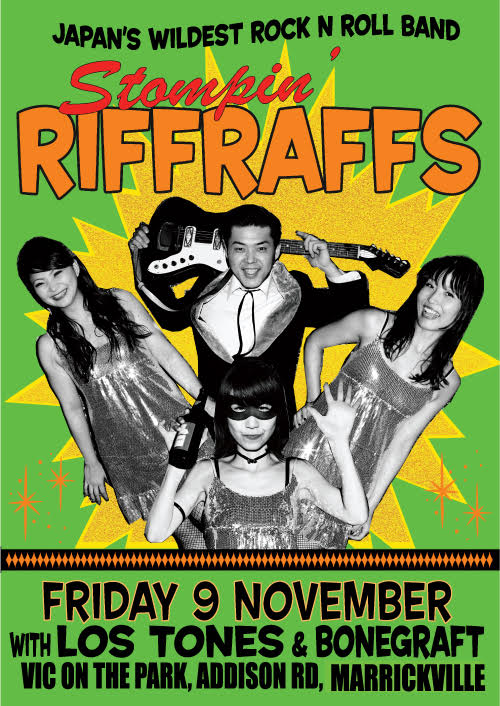 Japan's Wildest Rock Band drops in the Vic on the Park in November
Stompin' RiffRaffs , formed in Tokyo in 2006, are comprised of three chicks—Rie (bass), Miku (keyboard and theremin), and Saori (drums)—and fronted by their man Nao (guitar and vocals).
Stompin' RiffRaffs have been regular fixtures of the Tokyo underground since their inception and regularly tour around their native Japan while still finding time to play internationally with regular frequency. Their first major release on Wild Records, 2015's A Man and Three Chicks highlights the band's fuzz-soaked late '50s sound, consisting primarily of original live staples such as "Parabellum" and "Screamin' on Wheels" with a few covers thrown in for good measure.
Stompin' RiffRaffs combine all the elements of the golden age of ferocious rock and roll without sounding simply derivative, providing irrefutable proof that despite their homeland being known for propriety, orderliness, and manners, these Nipponese can still hit as hard and fast as anyone else.
Co-headlining on the night are Sydney's finest Garage rock band, Los Tones, who have witnessed the madness of Stompin' Riffraffs whilst playing a festival together in Japan! Bone Graft on first!
This is a Garage Rockers Wet Dream and one not to be missed!
Friday 9th November from 9pm
Free Entry. Djs on after the bands till late! No Lockouts.
Facebook event