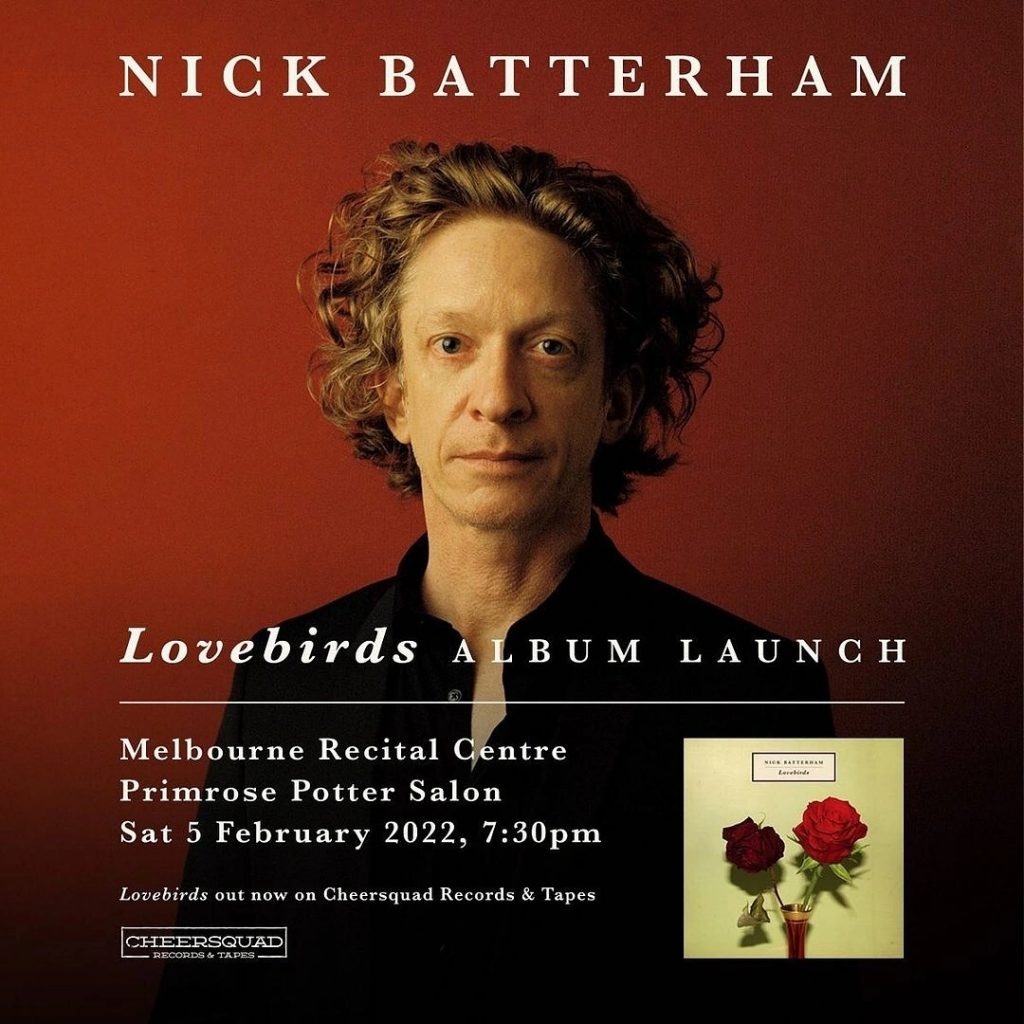 RESCHEDULED TO 5 FEB
To celebrate the release, Nick is excited to announce that he and his band will launch Lovebirds to a live audience at the Primrose Potter Salon, Melbourne Recital Centre this June.
Performing the album in full on grand piano, Batterham will be accompanied by Kelly Day (Broads), Nick Murray, Ben Wiesner and award-winning theatre composer and sound designer Jethro Woodward, as he launches Lovebirds at Melbourne's Recital Centre Salon on Friday 25 June, 13 August Saturday 5 February 2022.
With a voice described by Rolling Stone as "an almost other-worldly instrument of beauty,". Tender balladry infused with dry humour and self-deprecating storytelling, you simply cannot miss it.
Doors: 7.30pm
Tickets on sale now
Or call the Melbourne Recital Centre box office at (03) 9699 3333
Facebook event
On his sixth solo album much-loved Melbourne musician Nick Batterham serves up a lavish feast of orchestral pop that explores love's dizzy highs and heart-wrenching lows.
Batterham has become a master at crafting sparkling pop songs, memorable guitar licks and irresistible melodies.
On Lovebirds, he builds on these foundations – and on the experience of composing an album of original classical music for Rone's award-winning 2019 Empire project – to make a record that is at times warm and inviting, but also knows how to convey the chill of aloneness.
A stalwart of the Melbourne music scene for the past 25 years, Nick Batterham is a prolific artist who has lent his immense musicality to beloved local acts The Earthmen, Blindside, Cordrazine and most recently, The Bell Streets, as well as regular compositional collaborations with renowned visual artist RONE. Nick's upcoming sixth studio album, Lovebirds bristles with spiky observations and raw emotion, delivered with the world-weariness of Elliott Smith or Nick Drake, while the production nods to Phil Spector at his most opulent.
Promising a lavish feast of orchestral pop that explores love's dizzying highs and soul crushing lows, Lovebirds is now available for pre-order on limited edition red vinyl, black vinyl, CD and digitally. This comes with a free digital download of the album upon release date, and with instant access to Nick's first two singles 'No Perfect Man' and 'Turbulence' right now. Release date 21 May 2021.