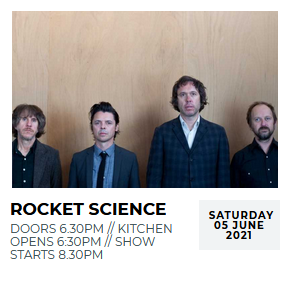 RESCHEDULED TO 2 OCTOBER 30 OCTOBER 5 FEBRUARY 2022
Melbourne art-punk and garage cok icons Rocket Science are a force to behold. They return for their first show since early 2020 to celebrate 23 years as a band.
2019 saw the release of Snake, their first album in 10 years. The album caught ROCKET SCIENCE at the height of their powers, charged with a cosmic energy born of a unique alignment between four exceptional musicians. A truly collaborative work, recorded by the band's guitarist Paul Maybury. Mixing improvised moments with post-punk, garage, space rock and dark imagery. The songs reflect a decaying post-postmodern world, that is both self-destructive and in denial. Rocket Science are back from outer-space: tougher, wilder and sharper than ever.
With special guests Super American Eagle (featuring members of the Dandy Warhols, Immigrant Union and Courtney Barnett band) and more to be announced!
Brunswick Ballroom, Saturday 19 June 2 October 30 October 5 February 2022.
Tickets here
Facebook event