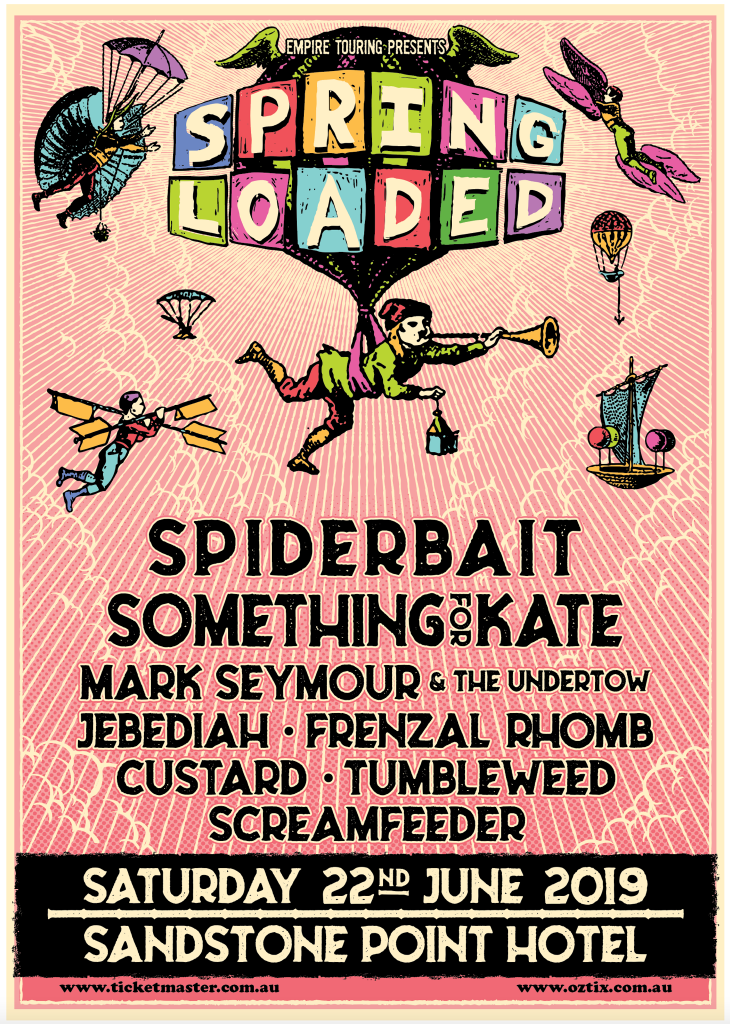 SPRING LOADED celebrates the rad-ness of 90's Australian rock music, it smells like teen spirit!!!  Get your grunge on and get ready to rock the mosh pit with this stellar line-up of SPRING LOADED 2019!
Spiderbait, Something for Kate, Mark Seymour and the Undertow, Jebediah, Custard, Frenzal Rhomb, Tumbleweed and Screamfeeder!
The Australian music scene exploded into the 90s with a deluge of hot, hungry and sometimes heavy new acts!  It was a decade to remember, there were more bands than ever, all jostling for attention in a crowded but ever-so-rich music landscape.
These acts cut their teeth playing to live audiences. Traversing our country's major highways bringing their best work to eager young audiences in cities and towns across Australia. Then came the records, with many bands going one step further; crafting pieces of sonic art that once heard was never forgotten and recorded for posterity on many a Hottest 100!
Their shows were always packed to the rafters and the demand for their music heralded the dawn of the age of the festival…massive festivals sprouted all over the country – Big Day Out and Homebake became household names – as did the Australian bands that regularly appeared on their festival stages.
In honour of the what the 90s delivered to the soundtrack of our lives Empire Touring are proud to announce SPRING LOADED 2019! The inaugural Spring Loaded festival takes place on Saturday 22nd June at Sandstone Point Hotel, Bribie Island, Queensland, undoubtedly one of this country's truly outstanding locations!
Tickets here
General public on sale from 9am on Monday 4th March
Facebook event