Tumbleweed add an extra show and announce their old mates and fellow '90s fuzz monsters Fridge as special guests on their upcoming 30th anniversary tour.
There's a buzz in the air. Tumbleweed are set to continue the celebrations of their 30th anniversary as a band with a national  tour. And with the announcement of an added show in Ballarat, the band has also announced old mates Fridge as their special guest on the tour.
Volta, Ballarat, Fri 22 April – tickets
Westernport Hotel, San Remo, Vic, Sat 23 April – tickets
The Croxton, Melbourne, Sun 24 April – tickets
Crowbar, Sydney, Fri 6 May – tickets
The Triffid, Brisbane, Sat 4 June – tickets
The Gov, Adelaide, Sun 12 June – tickets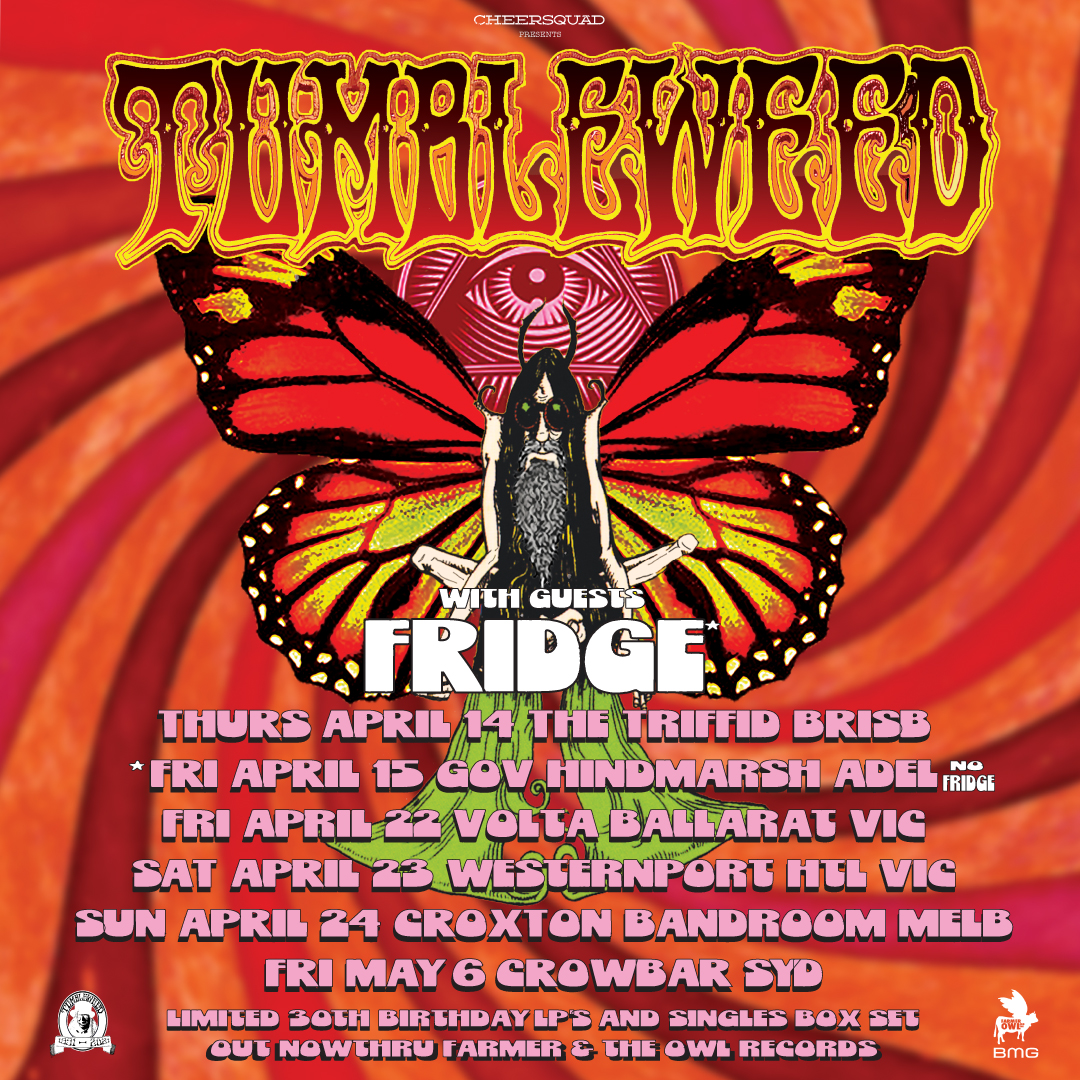 Fridge – who started out in Tasmania in 1991 before moving to Melbourne – shared many a bill with the Weed early on, as well a mutual love of fuzz. Known for popular albums like Space Junk and Cactus, the band also shared bills with the likes of the Cosmic Psychos, Spiderbait, Bored!, Hard-Ons, Celibate Rifles, Meanies and a young You Am I – as well as Iggy Pop and Monster Magnet. Tumbleweed are thrilled to have them on board.
Tumbleweed's Richie says: "We had heard rumours about this band of fuzzed out long hairs from Tassie, but the first time I saw them was the Meanies' Gangrenous launch at the Club in Collingwood in 92. I remember rocking up to the gig and we were hit by an almighty wall of warm fuzz and hair and human bodies heaving. They were certainly drawing from a common well as us. Backstage we hit it off immediately with our shared love of music and we have remained firm friends ever since. Both Al and Phil have played in Tumbleweed at various stages over the years, and Al played in Richie and the Creeps and in my Richie and Friends solo shows a few years back. Phil is now living in Wollongong and is our live mixer these days. Squiz is now famous as the guitarist in King Parrot and he still rocks up to every Melbourne show and sleeps on our couch and Tony was the one that got away to greener pastures, so it'll be great to drag him out of his Tasmanian hibernation! They are our brothers!  Fridge for the first time in 25 years! What a way to celebrate our 30th Birthday!"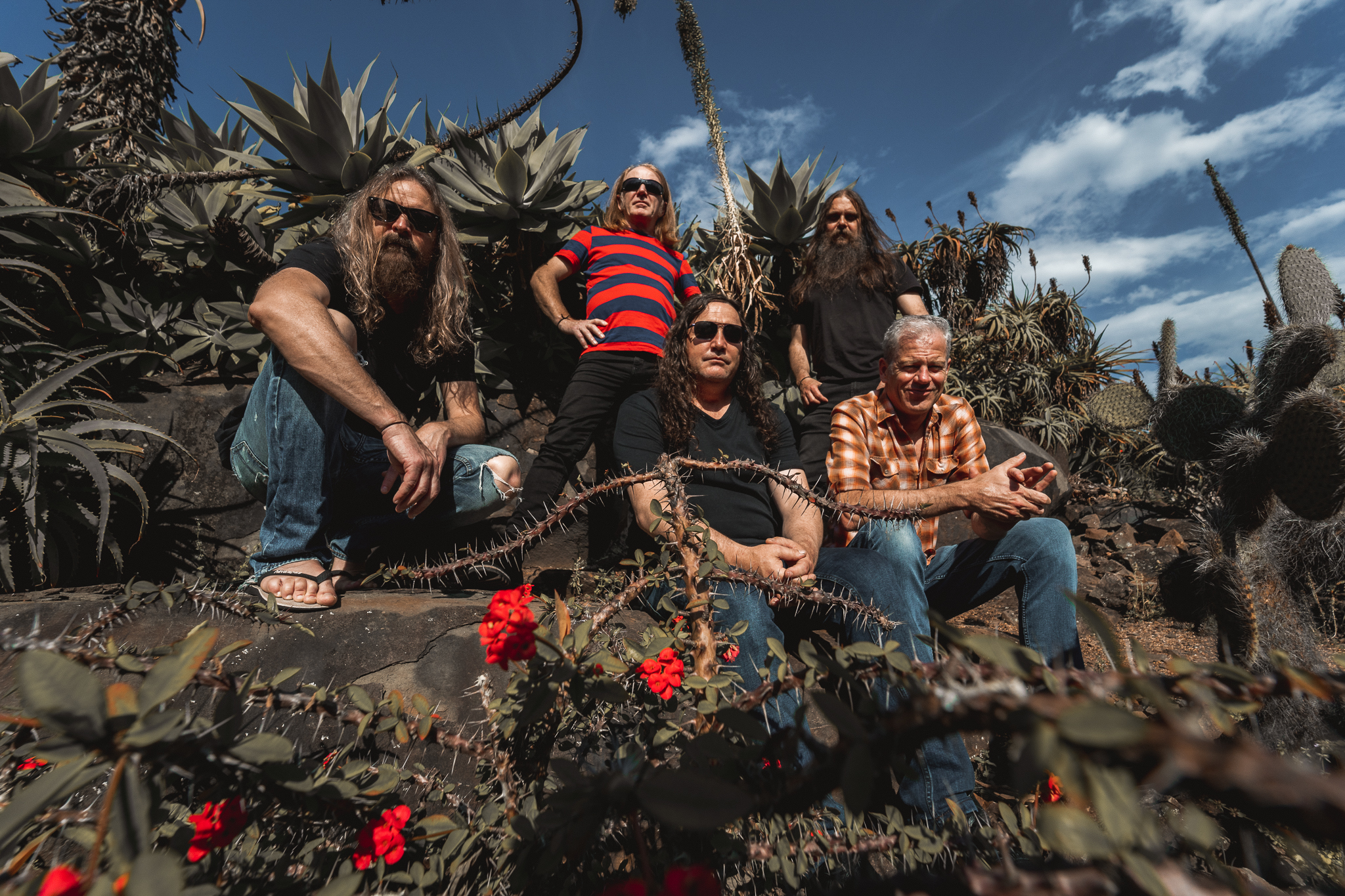 THIRTY YEARS ON…
30 years used to be a long time in rock'n'roll. When Tumbleweed began in 1991, if you were to look back 30 years you would happen upon a time prior to Beatlemania, when rock'n'roll was still buzzing from Little Richard, Chuck Berry and Elvis!
A lot can happen in three decades, but paradoxically, sometimes very little changes.
Tumbleweed exploded into the 90s with astounding vigour and vim; from the humble village of Tarrawanna in Wollongong NSW, Tumbleweed were desperate to break the shackles of their steel town and take their sounds to the world.
They meant business from the get-go and had already built a network of friends in Seattle, just as the fuse was lit before the big grunge explosion. Mark Arm from Mudhoney produced the first single "Captain's Log"/"Space Friends" (1991) and it was mixed by Jack Endino at Reciprocal in Seattle. Tumbleweed back then were three Curley brothers, Lenny, Jay and Dave with Richie Lewis on drums. The band transformed before the release of the first single with Paul Hausmeister and Steve O'Brien – previously of Wollongong 60s garage punks The Unheard – joining the band and Richie becoming the lead singer.
With this new and invigorating 5-piece line up, the band developed their sound and pioneered a new era in Australian rock'n'roll, with the rapid fire of releases "Stoned"/"Holy Moses" 7" (1991), Theatre of Gnomes EP (1992) and Weedseed EP (1992) all dominating the alternative charts, and a non-stop touring schedule supporting just about every band in the spotlight, from Fugazi to Nirvana to Iggy Pop. The momentum led to the band signing directly to Atlantic Records in America. For a moment it seemed that they were destined to take on the world; they toured England with Mudhoney and played the Astoria in London with the Lemonheads, and on a quick showcase tour in the US they played New York's legendary CBGBs.
Back in Australia they were on tour when their debut album was released entering the charts at #12.
By the end of the Australian tour, the band's original manager quit.
Atlantic records dropped them shortly after and the overseas opportunities inevitably dried up.
Tumbleweed then concentrated their efforts on Australia, finding a new label in Polydor and released a single "Daddy Long Legs" (1994) and second album Galactaphonic (1995). They toured to sell-out crowds and seemed to be sailing sweetly when they foolishly kicked out guitarist Paul Hausmeister. Steve left out of solidarity.
Lenny, Jay and Richie continued on with various other members through the third album Return to Earth (1996), which spawned the hit single "Silver Lizard", and then album #4, Mumbo Jumbo (1999) which, funnily, got them the only ARIA nomination they ever received.
But things were not the same.  Richie and Lenny walked away from it in 2000.
In 2009 the classic line up Richie, Lenny, Jay, Paul and Steve reformed for the 15th anniversary of Homebake, a festival Tumbleweed had helped pioneer with "Weedstock" back in the 90s.
They released their fifth album Sounds from the Other Side in 2013 to critical acclaim and just wrapped up touring that album when, in August 2014, tragedy struck. Jay Curley, bass player, brother and founding member, died suddenly in his home. The band were devastated.
In 2017, old friends Spiderbait asked Tumbleweed to reform to play a special anniversary show at the Corner Hotel in Melbourne. The band recruited old Wollongong mate and Pink Fits bass player Jamie Cleaves to fill in on bass. With Jamie they discovered new life in the band, a new spark that reignited their passion for rock'n'roll. With Jamie now a solid member of the band they recorded a single "Shadowland/ Rebellion" (2021) with Rob Younger.
Tumbleweed are now loving it more than ever. They have found a balance, are writing new music and are playing the best shows of their career!
Tumbleweed are about to embark on a tour to celebrate still being around 30 years on! From the fairy tale beginning full of unbridled potential, to the crushing failure to realise their dreams, Tumbleweed's story has been one of the highest highs and the lowest lows, but it has always been real.
To be continued….