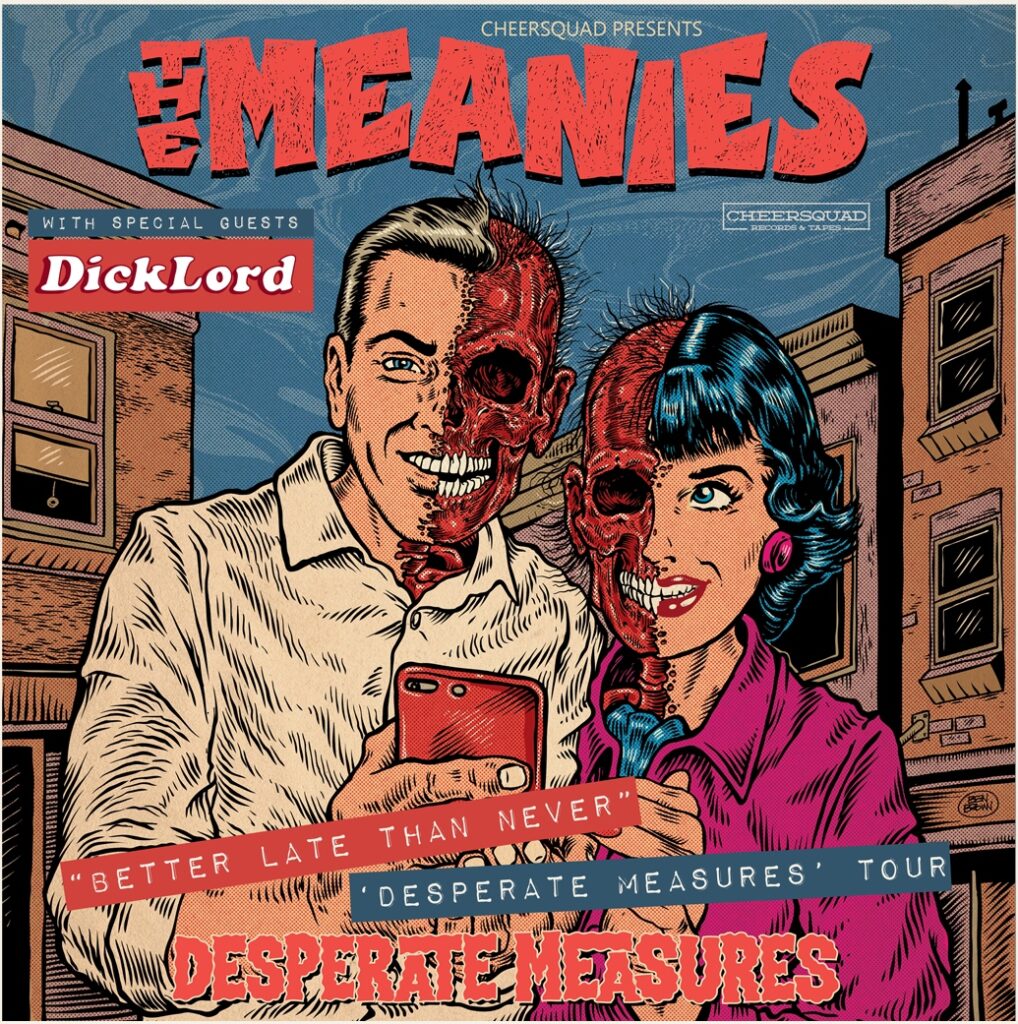 "Howdy folks in Brisbane, Melbourne, Adelaide, Ballarat, Macedon, Wollongong, Sydney, Narrabeen, Newcastle, Geelong and Canberra who were hoping to see us old age teenagers live in concert in July; It ain't gonna happen. We're sincerely sorry, but this Covid shit is continuing to fuck with everything, and we need to postpone to August/October/November. Current ticket holders will be able to use those tickets. Refunds will be available if you can no longer attend.
————————
The Meanies take desperate measures, finally!
Melbourne punk rock legends tour their new album a year late; with national 'better late than never desperate measures tour' .
Byron's Dicklord open most shows!
Better late than never, and in the midst of their part in the national Spring Loaded tour with a few old buddies,  Australia's punk-rock heavyweights The Meanies announce their 'better late than never desperate measures tour'. The tour is a belated celebration of their 'new' album Desperate Measures, which is out now on Cheersquad Records and Tapes.
Desperate Measures is a hard, fast and catchy onslaught of hard-hitting Meanies mayhem. It evokes the classic sound that made the band a household name in all the worst houses back in the '90s, and which has influenced generation after generation of young punks ever since.
Joining The Meanies as they take their desperate measures are one such group of rowdies, the mighty DickLord, whose album 'It's Soooo Boring' is out now on Valve.
RESCHEDULED:
Saturday 21 August (rescheduled)
new date to be announced soon
Barwon Club, Geelong, VIC *
+ Poppin Mommas + Eyeroll (no Dicklord)
Tickets here
Saturday 16 October (rescheduled)
Jive, Adelaide, SA
+ Cull The Band
Tickets here
Friday 22 October (rescheduled)
The Tote, Melbourne, VIC
+ Persecution Blues + Cheeky Geezers
Tickets here
Saturday 23 October (rescheduled)
The Tote, Melbourne, VIC
+ Super American Eagle + Sidesplitter
Tickets here
Friday 5 November (rescheduled)
The Eastern, Ballarat, VIC
+ Dicklord + The Dawdlers
Tickets here
Saturday 6 November (rescheduled)
Railway Hotel, Macedon, VIC
+ Dicklord + Persecution Blues
Tickets here
Friday 12 November (rescheduled)
The Zoo, Brisbane, QLD
Tickets here
Wednesday 17 November (rescheduled)
The Basement, Canberra, ACT
+ Charlotte & the Harlots
Tickets here
Thursday 18 November (rescheduled)
Lansdowne Hotel, Sydney, NSW
+ Blitz Babiez
Tickets here
Friday 19 November (rescheduled)
Narrabeen RSL, Sydney, NSW
+ Tshitaki
Tickets here
Saturday 20 November (rescheduled)
Cambridge Hotel, Newcastle, NSW
+ I Hate People
Tickets here
Sunday 21 November (rescheduled)
La La La's, Wollongong, NSW
+ Ape Rib
Tickets here